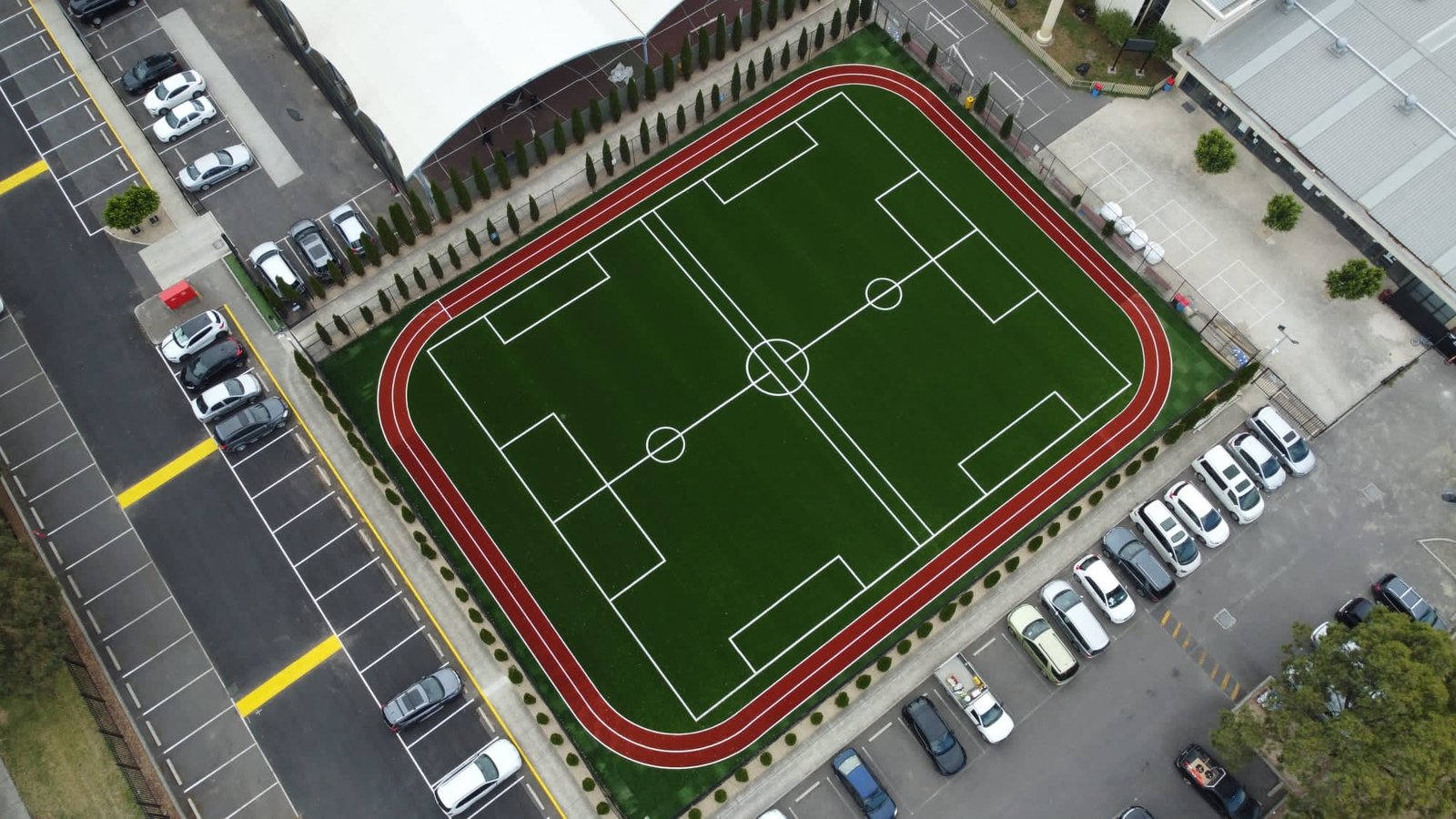 More and more schools, universities, and councils in NSW and elsewhere in Australia are choosing synthetic turf for soccer fields and other athletics sporting surfaces for a variety of excellent reasons. Choosing synthetic turf surfaces for soccer fields is, no pun intended, a natural choice due to the many superior benefits of synthetic turf over natural grass, which we've outlined in previous blog posts.
Not all synthetic turf products are alike, however. Since the early days of Astroturf and early pioneering turf products of decades past, synthetic turf has greatly improved in many regards. Still, it is critical to choose the best of the best amongst competitors. Below are five key things to look for in a top-quality synthetic soccer field turf product:
1. Built for Players Safety & Performance
Players should come first when it comes to choosing a synthetic soccer pitch surface. Although sustainable, low-maintenance turf yields great benefits for the pitch owners and the environment, it's no good if players are put in danger from poor quality surfaces or systems and/or if their performance is inhibited.
Synthetic turf products from Champion Grass put player safety and performance first. Whether you've got school pupils playing, families kicking a ball around, or amateur or professional athletes competing, rest assured that our products deliver quality results in safety and performance.
2. FIFA-Quality Fields
What is the ideal performance level of a synthetic turf product? When it comes to competitive play, FIFA preferred producers such as Edel Grass – our exclusive partner for synthetic turf – are a natural choice. There are only six FIFA preferred producers worldwide, and the seal of approval from the world's highest governing body for football (soccer) is a mark of quality and trust.
3. Low Maintenance & Damage Resistance
If you've already decided on synthetic turf over natural grass, then you're probably keenly aware of the significantly lower maintenance and greater damage resistance that it offers. For soccer pitches, low maintenance is important for ensuring consistent year-round play and minimum downtime. In terms of damage resistance, the tough synthetic fibres of our synthetic turf products go hand in hand with low maintenance as well as reduced repair and replacement costs.
4. Maximum Year-Round Usage
Natural turf needs time to 'rest' and breathe between play sessions. Perhaps 15 hours per week for many natural turf pitches, which is pitifully low considering the importance of having a soccer pitch in the first place.
Synthetic soccer pitch surfaces from Champion Grass can be used 3x more often (or more), up to 75 hours per week or more. The grass isn't natural, so it doesn't need time to rest or breathe nor does it need constant maintenance like natural grass, so you can enjoy less downtime and greater turnarounds on usability game after game.
This is ideal for educational institutions whereby teams of schoolchildren or students may be using the pitch on a constant, routine schedule every day.
5. Reputable Design & Installation Services
Even the best quality synthetic soccer pitch isn't worth much to you or the players if it isn't installed professionally using industry-approved techniques and designed to your exact specifications.
Champion Grass offers full design, installation, and maintenance services for all synthetic turf products. If you require a small pitch for younger children or a full-sized pitch for amateur or professional athletes, choose us for reliable synthetic pitch solutions that provide brilliant results. We have certified systems approved by FIFA, World Rugby, International Tennis Federation etc. We are also certified by Synthetic Turf Council USA as their preferred installer. HIA, Sports & Play Industry Association, National Sports Convention, STC etc. are some of the memberships that we partner with to deliver the world's best latest technologies to the Australian sporting sector. 
Champion Grass
Champion Grass is your number one choice for high-quality synthetic turf products in Australia. Get in touch today for free consultation.