Synthetic grass is an ideal solution for businesses and commercial places that require safe spaces for use by employees or customers. Synthetic grass for commercial use has a number of advantages over natural grass, including its durability and water-friendliness. Its synthetic nature makes it resistant to wear and tear, so it stays looking lush and green for much longer than natural turf. Furthermore, synthetic grass does not need to be watered, making it ideal for businesses in dry climates or those that want to cut down on their water use. Overall, Artificial turf for commercial places is a smart choice for any business looking to create a safe and attractive outdoor space.
Space Transforming
Low Maintainance Costs
Attract New Customers
Dog Friendly
A Realistic Alternative to Natural Grass
Unlimited Design Possibilities
Uses of Artificial Turf in Commercial Area
The rising popularity of synthetic grass in commercial settings has become a major trend in recent years. This is due, in part, to the many benefits that artificial turf can provide for businesses and organizations. Compared to genuine grass, our synthetic grass for commercial required low maintenance and needs very little water. It also stays green year-round, which helps to boost curb appeal and create an eye-catching aesthetic. Additionally, synthetic turf is engineered to be durable and resistant to wear and tear, making it ideal for high-traffic areas such as playgrounds or sports fields. Overall, the use of artificial turf for commercial applications is a smart choice for those looking to maximize their bottom line while minimizing their impact on the environment.
Uses of Synthetic Turf in Commercial Areas
Our artificial grass for commercial areas is suitable for indoor and outdoor use in a number of locations, including but certainly not limited to:
Bars
Restaurants
Hotels
Shops
Cafes
Office
Gyms
Swimming Pool Surrounds
Exhibitions
Champion Grass provides the finest quality Artificial turf for commercial places which is a great way to attract consumers and give them what they want – which you know how difficult it can be when their preferences change every day! With so many different installations available, from garden spaces all over town (or country) through restaurants' courtyards to exhibition stands or even dance floors or in the cafeteria of your office; no matter where your needs may lie there's an option for you. All our products including synthetic grass for commercial locations are manufactured by Edel Grass, the Netherlands with high-quality Tencate yarn to ensure the safety and the performance of the player.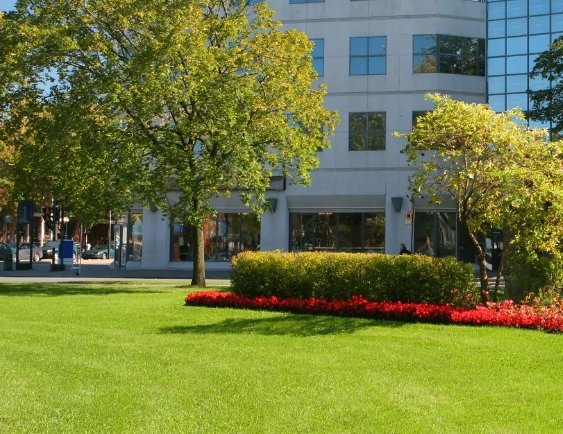 Artificial Grass Installation in Commercial Area
It's no secret that a well-manicured lawn can boost the curb appeal of your home or business. But keeping your grass looking green and healthy all year long can be a challenge, especially if you don't have the time or resources to do it yourself. That's where artificial grass for commercial place installation comes in. Installing artificial turf is a great way to keep your property looking its best without any of the hassles. So if you're thinking about installing artificial grass for commercial property, be sure to contact a professional supplier like Champion Grass for all your synthetic turf commercial needs.
Synthetic Turf: Perfect for All Kinds of Sports
When you need synthetic turf for commercial purposes, your requirements change a little. For many people, the first thing they think of is longevity. Our product range like Artificial grass or Synthetic turf for commercial areas has become increasingly popular for all types of sports, from soccer and football to golf and tennis. There are a number of reasons why synthetic turf for commercial use is perfect for indoor sports in your workspace. Here's why:
Wear resistance – Synthetic material doesn't wear off on constant use like natural grass, making it suitable for constant usage for longer periods
Multipurpose Versatility – Even construction of the turf based on standard plans makes it good for all kinds of sports, allowing you to make the most out of your space.
Innovative design – Layered plan for design ensures no mud or swampy conditions in case of heavy winds or rainfall, removing the need for excessive maintenance
If you're looking for the best possible playing surface for your next game or match with your employees, consider installing synthetic grass in the Commercial area. You won't be disappointed!